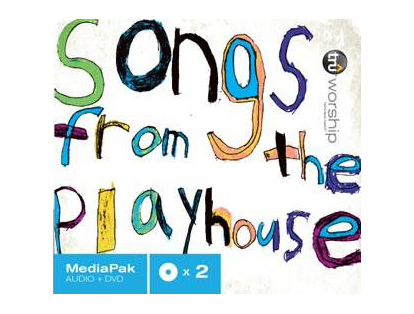 Format: CD
Style: High-Energy Kids Worship
The Songs from the Playhouse MediaPak contains both the Songs from the Playhouse CD, as well as a DVD that contains videos, lyrics, and chord sheets for use in your ministry!
On Songs from the Playhouse (the first TruWorship release aimed at preschoolers), children join characters Chloe, Jack, and Olivia as they enter the world of The Playhouse and explore the foundations of God's Truth.Songs from the Playhouse is designed to help create environments for preschoolers to respond to God both in the home (or car!) and in church.
With production by Grammy and Dove award nominated producer/engineer, Paul Dexter, and guest appearances by Tim Hughes, Crystal Lewis, and Jody McBrayer (formerly of Avalon), Songs from the Playhouse stands on the cutting edge of the preschool worship experience. Songs from the Playhouse was developed in a collaborative effort between ROCKHARBOR church, David C. Cook Publishing, and Kingsway Music.
Fun-filled, high-energy worship music with well-known personalities and singers
Features 12 foundation-building songs for preschoolers and videos with lyrics and motions for each song
Each song is set up with an introductory message to help children understand the Biblical truths
Part of the new TRU curriculum series created by David C. Cook in partnership with ROCKHARBOR Church